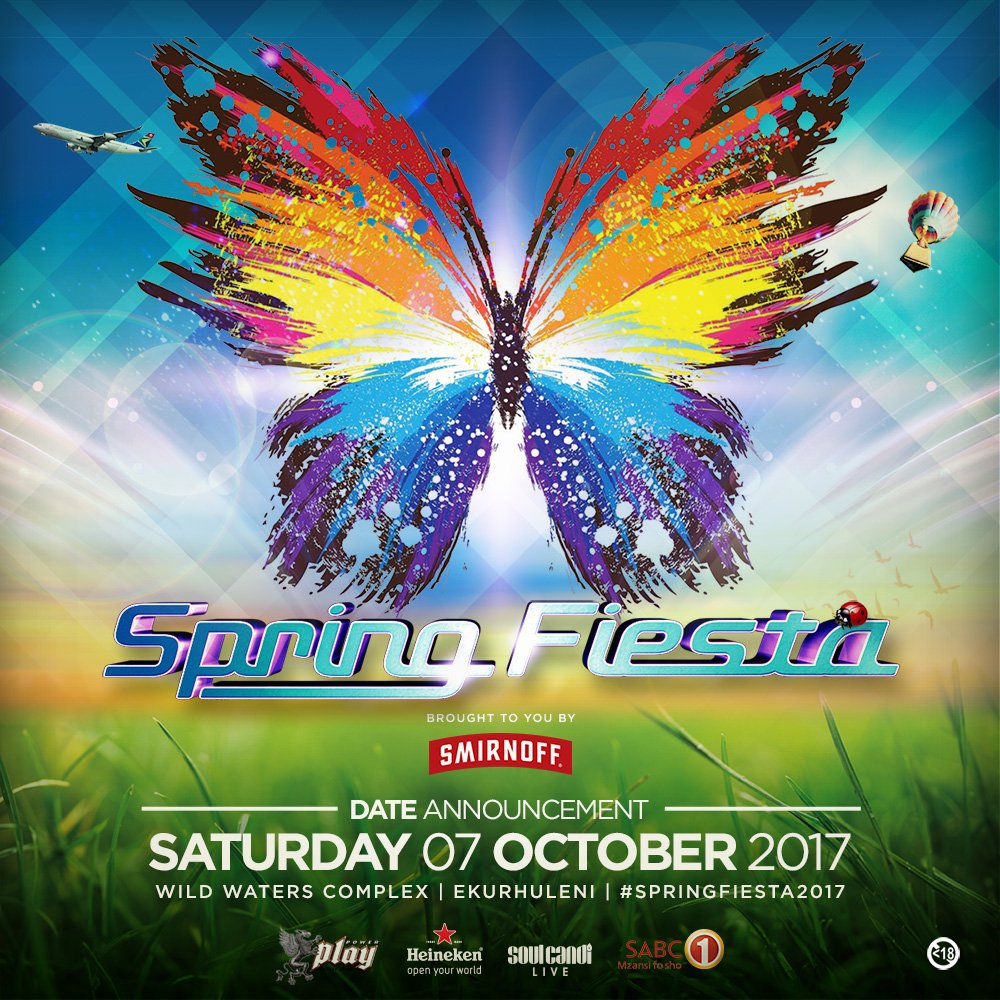 Calling all those who reside in Jozi and those of you who like being where the vibe is at, this article is aimed
specifically
at you. We're nearing the end of September and
everyone
knows that as students we need to get turn't (Get Partying) before exams begin and we simply cant wait for them to end! It's the time of the year where
everyone
is psyched, not only students (because for us we're one year closer to our degree) but for the general public as well, because
nothing
beats the Spring/Summer Season filled with lots of public holidays and many festivities! 💃💃💃
In less than 2 weeks, the party playground of Wild Waters, in Ekurhuleni, will once again play host to the
7th Annual Spring Fiesta.
Your home girl will be there ( Ticket Courtesy of Vibescout), question is,
WILL YOU
??💁💆😎
The line up is exciting! I'm looking forward to watching destruction Boys tear up the decks with their Gqom (I've never, ever seen them perform live, so i'm really excited). Other artists' i'm excited to see include:
AKA,
Nasty C (Because I can't get enough of him),
Okmalumkoolkat
DJ PH
Black Coffee
Black Motion
Ricky Rick and Lady Zamar 💃💃💃
These are but a few of the artists' performing,other artists include:
DJ Tira & Big Nuz
Euphonik
Speedsta
Lulo Cafe
Ms Cosmo
Twins On Deck, And Many More! 🔥🔥🔥
Images Taken From Spring Fiestas'
Facebook Page
If You're already feeling the FOMO, fear not because
YOU CAN STILL GET TICKETS!
Ticket prices are as follows:
Phase 1 and 2 tickets are sold out, but you can get Phase 3 (For every ticket type) which are going for:
General Access Phase
3
: R350.
Phase 3 VIP
: R650.
Phase 3 V-VIP
: R1000
They also have packages available ( Only 3 Packages left) which are as follows:
Birchwood Platinum R2800
Which includes:
2 x VVIP Tickets
1 x Double Silverbirch oom
Breakfast
Shuttle to & from Spring Fiesta
2 Tickets/group
Birchwood God
Which includes:
2 x VIP Tickets
1 x Double Standard Room
Breakfast
Shuttle to and from Spring Fiesta
2 Tickets/Group
Birchwood Silver
Which includes:
2 x GA Tickets
1 x Value Stay Room
Breakfast
Shuttle to & from Spring Fiesta
2 tickets/group
With a variety of ticket options and packages, you
CANNOT MISS THIS EVENT
!
Simply click this
link
, and you'll get more details about the event (like, who else is performing🎶🎵), you can also buy tickets, as well as share the event so you can let
all
your other friends know, because you
DON'T
want to have
FOMO!
- especially with the impressive line up they have in store for us!😛
As students, it can be
really
hard to know where it's popping during the weekend, that's why it's helpful to have things like
Vibescout
! As the name Implies, it scouts the vibe
FOR YOU!
Visit their website
here
, enter your email address to subscribe to vibe updates and you're all set! You can also view a list of events when you're on the website. Be where the vibe is at, don't let the vibe miss you! it's a great way to know which events to go to, after a
long
and hectic week of tests, never-ending-modules, and everything else that's stressful about uni life. 😁
If you feel like spring fiesta isn't your kind of vibe, you can find other events in jozi that suit your vibe over
here
.
PS: If you spot me with my camera and what-nots', don't be afraid to come over and say
Hi
😊